Puppyreünie Q-Nest [Norah x Rayan] [Cailin x Rayan] (11 November 2017)
Parents
Father
MULTI Ch. Soul Almighty At Pic Pokey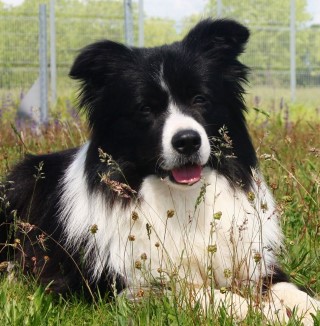 Born
D.O.B. : 18 Mei 2017
Age :2 year
Links
11.11. Wapenstilstand en ook de dag van Sint Maarten. Alleen is het niet daarvoor dat wij vandaag opgewekt wakker geworden zijn. Vandaag is het voor ons de eerste keer puppyreünie. Benieuwd wat we deze namiddag gaan doen. Benieuwd om m'n broertjes en zusjes terug te zien.
Eindelijk is het zover. Na een warme verwelkoming en kennismaking met de andere puppy's en baasjes, werd het programma voor deze namiddag uit de doeken gedaan. Evenwichtsoefeningen, slalom, door 'n (enge) donkere tunnel lopen en ook zeker eens spelen want we zijn toch nog altijd puppy's hé. Nadien rustig knagen aan een beentje terwijl de baasjes genieten van een natje en een droogje. Wie denkt dat het al afgelopen is, nee hoor. Nog een snuffeloefening, proberen of apporteren al lukt en dan Treibbal. Hoe klein/groot we al zijn, elke puppy heeft wel een voorkeur voor de ene of de andere oefening.
Ondertussen is een fotograaf wel duizend foto's aan het nemen om onze kunsten voor het nageslacht vast te leggen.
Donkere regenwolken komen dichterbij. Gelukkig blijven we daar grotendeels van gespaard. Nog even gezellig spelen voor de puppy's. Nog wat eten en drinken en blijven keuvelen voor de baasjes.
Het wordt tijd om moe en voldaan terug huiswaarts te keren met ons cadeautje en 'diploma' op zak.
Bedankt fotograaf voor de mooie foto's. Bedankt Christa en Steven voor de organisatie. Bedankt baasjes en puppy's want het is uniek dat iedereen op hetzelfde moment tijd heeft kunnen maken.
Pootje,
Cooper