Flaxblossoms HOLA CHICA
Flaxblossoms HOLA CHICA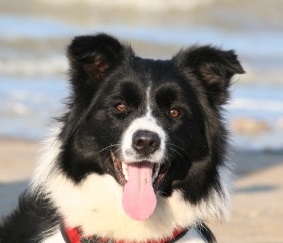 About

Chica

D.O.B.Geboortedatum : 2008/03/08
R.I.POverleden : 2020/04/24
Call name : Chica



HD

:

B = Vrij

B = Free

CEA

:

Vrij door vererving

Normal by parentage

CL

:

Vrij door vererving

Normal by parentage

TNS

:

Vrij door vererving

Normal by parentage

Volledige schaargebit

Complete scissors bite

Kleuren

Colors

:

Zart / Wit. Drager van zwart en blauw (diluted)

Black / White. Carries black and blue (diluted)

TST KKUSH

(St-Hubertus) :

Geslaagd

Passed

Brevet gehoorzaamheid van KKUSH

Obedience Certificate of URCSH

Certificaat toelating LOSH-fok

Certificate for LOSH breeding
Chica is werkelijk een schatje, dat bruist van levenslust.
Een spring-in-het-veld die zich nergens zorgen over maakt.
Ze was actief in gehoorzaamheid en werd getraind en voorsteld door Mike Sanders.
Sportongeval op 4 november 2015, waardoor tijdelijk verlamd. Na een lange revalidatie besloten om haar uit de competitie te nemen.Chica is a real darling, who's joy of living is big.
She's alive and kicking, that's for sure.
She's active in obedience and was trained and presented by Mike Sanders.